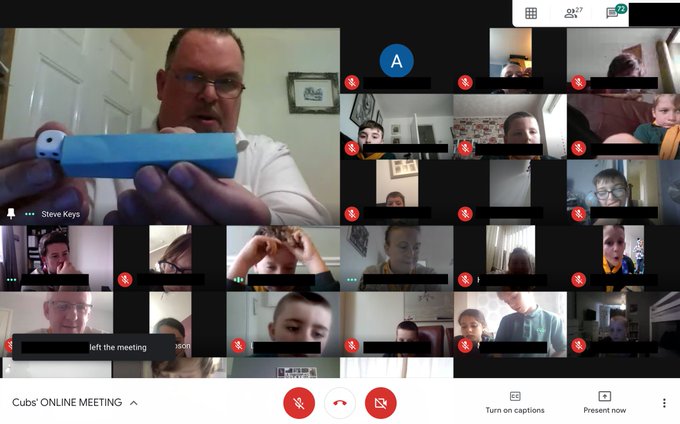 On Tuesday 17th March we made the very difficult announcement that all face-to-face scout activities would cease in response to the Coronavirus pandemic. Scout groups nationally are faced with similar challenges and the The Scout Association, like most other national organisations released a statement.
At 3rd Washington, we're passionate about helping our members to develop essential skills for life and have developed a plan to keep our community engaged, active and able to put into practice our core values of integrity, respect, care, belief and cooperation. I think we all agree that it's in challenging times like these, that our scout values matter most.
Since late March we moved to an online version of scouting, using our GSuite tools such as video conferencing and online challenges, section meetings have run each week. We surveyed our members and established access to
electronic devices and internet connectivity.
In May 2020 we asked our members what they thought of online scouting. 48/51 people said online meetings were 'good' or 'brilliant' fun.
"
They like having the different themes every week. They enjoys the quizzes. My son has loved the challenges. I've especially enjoyed the creative challenges as we've enjoyed preparing them together. It is great to have scouts as part of our normal weekly routine still and it is the only opportunity they have regularly to see their friends."
We have resources in place to help families who need it to ensure that everyone can continue to get involved with scouting. To get support, please contact your section leader or send an email to help@3rdwashingtonscouts.org.uk.
Frequently asked questions

Here are some frequently asked questions about our approach to the situation for families and members.




We don't have a device or a connection to allow us to get involved with online scout meeting.
Please contact your section leader, ideally by email if you can, otherwise by phone. We have made some contingency plans to help to get you involved.



Should we continue to pay monthly subs during the period that scouts aren't meeting face to face?
Our scout group is a registered charity. Membership costs £120 per year and we collect this amount monthly. Whilst some of our costs will reduce during the pandemic, some fixed costs such as insurances will remain. If you are willing and able to continue to pay subs to the group, then please do so. However, should you be facing hardship in any way, please contact your section leader in the first instance to discuss.



I'm not sure how to use Hangouts or Classroom online - can you help?
We've made some handy videos of how to get online and access the tools. Check the links on this page. If you need more help, try calling a friend then your section leader for more help. You can email questions to help@3rdwashingtonscouts.org.uk.

Why do we need new logins for GSuite - why not use something we've already got like Facebook or WhatsApp? We're using a closed online place - somewhere that we can control who can get involved. That way we know that our members are as safe as possible and free from cyber bullies and inappropriate content. Also, some online social media tools (such as Facebook) have a lower age limit of 13 years.

When do you expect scouts to start to meet again?
We don't know. It is likely that the advice we will follow will come from the government and then The Scout Association nationally. Like everyone, we're expecting this to be long-term situation.



What about events like sleepovers and camps?
It seems unlikely that there will be any other face-to-face meetings, sleepovers or events. Once face to face meetings resume, our teams will return to programme planning including nights away, taking close account of national guidance.



How can I get in touch with my section leader to ask a question?
We prefer email contact wherever possible. Your section leader can be contacted from your @3rdwashingtonscouts.org.uk email directory; firstname.lastname@3rdwashingtonscouts.org.uk. If you're not sure, email help@3rdwashingtonscouts.org.uk and we'll make sure it gets to the right person.



Are there any activities or badges that I can do while I'm at home?
Yes, lots! Using GSuite we're setting weekly challenges, activities and opportunities to get involved. Young people can also choose to work towards the requirements of the many activity badges online. Checkout the Useful Resources section.



I've got an amazing idea of what young people can do at home?
Add it to the Stream in your 'Classroom' online or email your section leader with it.



Do young people 'have' to get involved with online scouting?
Like all scout activities, we encourage everyone to get involved in scouting. During the pandemic, scouting just takes a different form. Have a go...get involved, have a laugh. We always say in scouts that 'you get out what you put in'. If it's not your thing...why not have a think and suggest what is. We'd love to hear from you!




Resources for our members

Why not add Grid View to your Chrome browser, it allows you to see everyone on the call. Grid view only